We would like to live in a society that is socially cohesive, just, considerate towards all living creatures and the natural environment, grounded in freedom and responsibility.
We believe an education that enables each person to fully foster their potential, find their place in society and take on responsibility for themselves and the world, is essential.
An education system can only be as good as its teachers and headteachers. We believe that only well trained and highly motivated teachers and headteachers can fully foster children's potential. That's why we are devising and disseminating innovative training courses and working together with others to push for systemic changes in education.
We want headteachers who ensure, long term, that every child at their school is learning to their full potential and with enjoyment. That kind of headteacher:
wins others over to their vision of a school centred on the children, their learning and development
will be continually learning and open to the community
provides room and support for the fulfilment of their vision
continually tracks the effect their work is having on the children and their learning.
We are living our vision
Our course is driven by a vision that is so appealing to participants that they are prepared to invest their time and effort into pursuing it with us. That vision determines what will happen in the course, and how.
International dimension
Education does not stop at national borders. Cross-border collaboration and inspiration accelerates the advancement of know-how and human progress.
Reflective approach
Reflection on our own experience is a powerful tool for learning and self-improvement. We believe procuring experience directly from practice is fundamental. Academic reflection and research offer us information and the concentrated experience of experts and practitioners about what is useful, and what is not. Educators take reflected experience and the latest research as their starting point.
Each on his own pathway
We believe that a meaningful education is one in which each individual can fully foster their potential. Participants plan their own pathways and set themselves reasonable challenges. They take on responsibility for their own progress. Along the way they receive individual support in various forms.
Sharing and collaboration
True fulfilment as an individual occurs in fellowship with others. We work actively to provide room for the establishment of teams. Meeting together and opportunities to know one another and share with each other are valuable in themselves. High quality education and character development can only take place in an environment of security and trust, which we create through mutual care. Sharing our experience, values and goals makes us stronger.
On-the-job
Training must be connected to the specific context (schools, characters), otherwise it would not be effective. We believe that a great part of what participants will learn will be learnt at their own schools, where they will put into practice the approaches and methods they have discovered within the course. They will then be able to reflect on the results in the community of fellow participants.
Self-evaluation
The process of learning is never complete. Developing participants' metacognition and self-management (self-regulation) helps them to continue to learn even after the intensive phase of the course is complete, as part of a continually learning community. Any training course is only a small part of our life-long learning.
Enriching variety
We believe that variety within the group is desirable. Differences in school size, length of teaching experience, or previous life experience provide us with the chance to see things from new perspectives and learn more. The team that runs the course is also broadly varied.
Following up on teaching effect
The course will not be successful unless it has a positive effect on how children learn in the participants' schools.
The teacher as a guide
We understand teachers as guides on the pathway through education. They are responsible for creating the right conditions and stimuli. They also provide targeted feedback, which contributes to learning and character development.
We believe that a good school can change children's lives for the better. For children, accompanied by their teachers, to have the opportunity to identify their own value and find their place in the world, they must be given the room to do so at school, in the right conditions. Those conditions are best created by a team of teachers led by a headteacher who is a pedagogical leader.
Headteachers who are pedagogical leaders have a deep understanding of the need to focus on children's learning and development at school. They believe that their fundamental task is to evaluate the effect each and every staff member at their school has on the children's learning. They win their teams over to their vision of the school as an open, learning community with the children firmly at its centre.
As in our teacher training course, in our course for headteachers we have focused on the best of both Czech and foreign education. We have brought back know-how from our study visits in the USA and made use of studies by the most renowned experts in the consequences of headteachers' work on children's learning.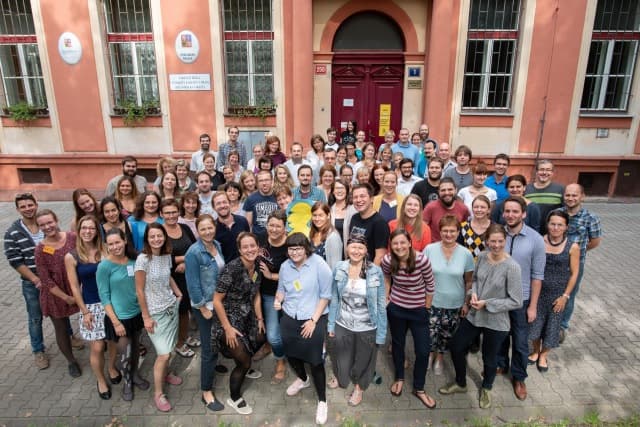 We are now recruiting pairs of school leadership staff who want to go into this with us and be part of the pilot cohort of the course, which is focused on long-term development, collaboration, connected experiences, theory and practice. To build a strong and cohesive community with the potential to change children's education for the better, we must build it together.
Know-how and theoretical background
We worked with seasoned Czech experts to design the course
The members of our board of experts contributed to the creation of the course concept and provided the course team with inspiration and feedback.
We gained inspiration from the best international know-how
We embarked on a study visit to New York, where we consulted experienced institutions in the USA:
NYC Leadership Academy, NYC Department of Education, Bank Street College of Education, Wallace Foundation and others.
We are putting findings from both Czech and foreign research to use
Kenneth Leithwood, John Hattie, Milan Pol, Michael Fullan, Elizabeth A. City, Helen Timperley, Pam Sammons, Alma Harris, David Hopkins, OECD, McKinsey, ČŠI and others
Some publications that have inspired us:
FULLAN, Michael. The Principal: Three keys to maximizing impact (2014)
HATTIE, John. High-Impact Leadership: Effective instructional leaders don't just focus on student learning. They relentlessly search out and interrogate evidence of that learning (2015)
LEITHWOOD, Kenneth et al. How leadership influences student learning (2004)
Principal as Instructional Leader: The Knowledge Loom: Educators Sharing and Learning Together (Brown University, 2008)
DAY, Christopher and K. A LEITHWOOD. Successful principal leadership in times of change: an international perspective (2007)
CITY, Elizabeth A. Instructional rounds in education: a network approach to improving teaching and learning (2009)